Stud Welding Insulation Products
Insulation Products to Meet Unique Specifications
If we don't stock the size or material that you require, we are equipped to design and make the products you need. Our engineers will assist you with any questions or unique requests to meet your exact project requirements.
For more than 35 years, Sunbelt has been a provider of stud welding equipment, parts and supplies for a wide array of industries. Fastening systems and parts are always available to meet every specific need promptly and efficiently.
Contact us toll free at 1-800-462-9353 or in Houston at 713-939-8903 for all of your fastening system needs.
---
Weld Pins simplify the permanent attachment of insulation to just about any kind of construction metal surface. They can be applied quickly and easily using standard CD or Arc stud welding equipment.
Weld Pins are available in different styles to cover a wide variety of applications. Some factors to consider regarding the pin style needed for your job would be the base metal type size and surface condition, and also the welding equipment to be used.
Weld Pins are used with Self-Locking Washers to complete the insulation fastening operation.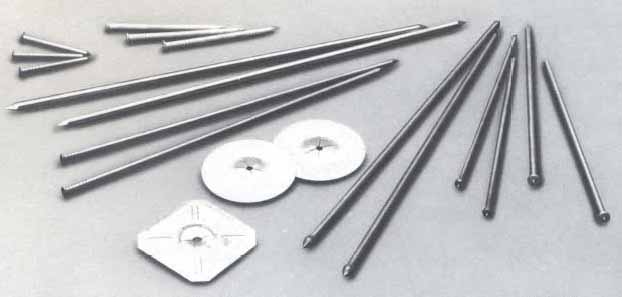 WELD PINS
MATERIALS
Mild Steel, Stainless and Aluminum
SIZES (Diameters)
14 GA, 12 GA, 10 GA
LENGTHS
in 1/4" increments up to 1-1/2" long and 1/2" increments beyond 1-1/2" long.
Other materials, sizes, and lengths are available on a special order basis.
---
---
---
---
---