Insulation Anchors: Prong
To order or specify give:
Product Code:
Length:
Material:
IA PG
Specify L
(if other than standard)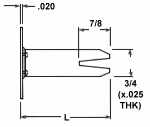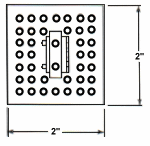 LENGTH
1-7/8, 2-3/8, 2-7/8, 3-7/8, 4-7/8 and 6-7/8 are standard.
Other lengths are available by special order.
MATERIAL
PLATE
PRONG
LOW CARBON STEEL
LOW CARBON STEEL
PLATING
Galvanized is standard
Galvanized is standard
OTHER MATERIALS
Available by special order only
WASHERS
The washer for use with this insul-anchor is the WCN P150 FY slotted part no. 041-568.