Weld Pins - Double Pointed (Arc)
Application - This is the standard weld pin used for insulation fastening when only Arc stud welding equipment is available.
Washers - Self-Locking washers are available in a variety of sizes, shapes and materials.
To order or specify give:
Product Code:
Diameter:
Length:
Material:
WP DP
Specify
L
Specify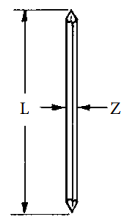 PIN
SIZE
D*
L
FERRULE CODE
10 GA
.135
AS REQUIRED
F135
*Other diameters available upon request.
MATERIAL
LOW CARBON STEEL
STAINLESS STEEL
C - 0.23% max
P - 0.04% max.
AISI grade - 302/304/305 std.
Other grades available upon request
Mn - 0.90% max.
S - 0.05% max
MECHANICAL PROPERTIES
Tensile - 60,000 psi (min)
Values for various grades available upon request
Yield - 50,000 psi (min.)
Elongation - 20% (in two inches)
PLATING
Copper coating is standard
Does not apply to stainless
ANNEALING
Can be annealed if required
Can be annealed if required