Weld Pins - Conical Tip - (Capacitor Discharge - CD)
Application - Ideally suited for welding with production Stud Welding systems.
Washers - Self-Locking washers are available in a variety of sizes, shapes and materials.
To order or specify give:
Product Code:
Diameter:
Length:
Material:
WP CT
Specify
L
Specify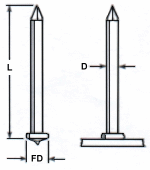 PIN
SIZE
D
L
FD
12 GA
.105
AS REQUIRED
.220
10 GA
.135
AS REQUIRED
.250
---
MATERIAL
ALUMINUM
Alloy - 110-H14 std. Other alloys available upon request
MECHANICAL PROPERTIES
Values for various alloys available upon request.