Refractory Anchor - Washers & Retainers
Insul-twist Washer
Application - Designed for 1/4 turn locking on to Sunbelt Insultwist refractory anchors.
Washers - Sold separately. Not a component part of stud.
To order or specify give:
Product Code:
Length:
Size:
Material:
WCN ITW
Specify
Specify
Specify

MATERIAL
Stainless Steel: 304
Stainless Steel: 310
Stainless Steel: 330
Inconel: 601
---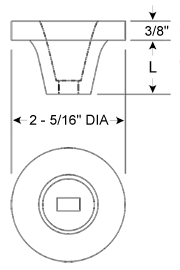 MATERIAL
Ceramic (High Temperature)
SIZE
L
Short - 1"
Long - 2"
---