PAH-1 (centering device diameter 30 mm) - Stud Welding Gun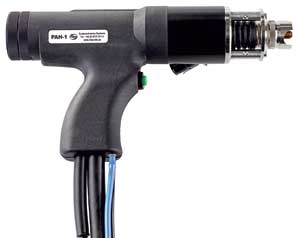 DESCRIPTION / FEATURES
Application
Especially suitable for thin metal sheets from 0.5 mm.
Structure
Rigid casing made of impact-resistant plastic
Slide bearing for guiding the welding piston
Sealed welding piston guidance
Adjustable lift
Stud length convertible (up to 30 mm)
Electronically controlled
Safety
Secure lift adjustment (with lock nut)
High level of security to prevent the selected settings beeing changed inadvertently
Guidance system protected against spatters
Welding
Individual adjustment options for optimum welding results
Welding on painted sheets possible (clean, smooth and flat surfaces and grounding required)
Manual or fully automatic stud feed possible (welding element is automatically pushed through the feed tube in the chuck)
SPECIFICATIONS
Welding range
M3 to M8, dia. 3 to 8 mm / #4 to 5/16", dia. #4 to 5/16"
Stud length
8 to 30 mm / 0.31" to 1.18" - other lengths only by request
Stud type
Welding elements with flange according to current standards (other studs on request)
Stroke
Adjustment range 5 mm / 0.20"
Welding cable
3 m / 9.84'
IP
IP 20
Workplace noise level
>90 dB (A) may occur during welding
Dimension LxWxH
295 x 60 x 170 mm / 11.61" x 2.36" x 6.70" (without cable)
Weight
1.4 kg / 3.09 lbs (without cable)
Order No.
94-20-028 (centering device dia. 30 mm)
Equipped for one standard stud dimension according to customer request.