Sunbelt Stud Welding
1-800-462-9353
www.sunbeltstudwelding.com
Aluminum Arc Weld Studs: Shoulder Base (SB) Weld Studs
For a quote or to order, please specify:
Specify Stud Type:
Quantity:
Weld Base Diameter:
Thread Size:
Unthreaded Length:
Maximum Thread Length:
Material:
Specify SB
Specify
Specify D
Specify T
Specify A(BW)
Specify B
Specify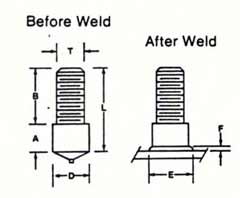 Sunbelt aluminum SB (Shoulder Base) welding studs are partially threaded studs with a base diameter greater than the thread diameters. Available with weld-base diameters from 5/16 inch through 1/2 inch; thread diameters as specified.
Typical Use: To provide a spacer between the parent metal and the fastened part.
Length Specifications: Overall length limits are established by the combination of A and B.
Material: Aluminum alloy 5000 Series.
Ferrules: All orders include ferrules, which are supplied with the studs and are not sold individually.
SPECIFICATIONS
THREAD SIZE
WELD BASE DIA. (NOM)
UNTHREADED LENGTH
MAX THREAD LENGTH
MAX OVERALL LENGTH
APPROPRIATE WELD BEAD DIMENSIONS
Before Weld
After Weld (NOM)
BW
AW
DIAMETER
HEIGHT
T
D
A(BW)
A(AW)
B
L(AW)
L(AW)
E
F
10-32
5/16
7/16
1/4
7/16
7/8
11/16
15/32
5/32
1/4-20
3/8
15/32
9/32
5/8
1-3/32
29/32
5/8
3/16
5/16-18
7/16
15/32
9/32
3/4
1-7/32
1-1/32
21/32
7/32
3/8-16
1/2
1/2
5/16
1
1-1/2
1-5/16
3/4
1/4