Sunbelt Stud Welding
1-800-462-9353
www.sunbeltstudwelding.com
Aluminum Arc Weld Studs: Full Base (FB) Weld Pins
For a quote or to order, please specify:
Specify Stud Type:
Quantity:
Weld Base Diameter:
Minimum Length before weld:
Material:
Specify FB
Specify
Specify D
Specify L(BW)
Specify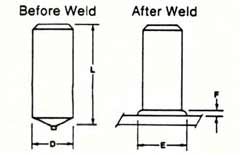 Sunbelt aluminum FB (Full Base) welding pins are unthreaded fasteners. They are available in diameters from 1/4" through 1/2".
Typical Use: Heat transfer pins.
Length Specifications: Lengths available from minimums shown in specifications.
Material: Aluminum alloy 5000 Series.
Ferrules: All orders include ferrules, which are supplied with the studs and are not sold individually.
SPECIFICATIONS
WELD BASE DIA. (NOM.)
MINIMUM LENGTH
APPROXIMATE WELD BEAD DIMENSIONS
BEFORE WELD
AFTER WELD (NOM.)
DIAMETER
HEIGHT
D
L(BW)
L(AW)
E
F
1/4
11/16
1/2
13/32
1/8
5/16
11/16
1/2
15/32
5/32
3/8
13/16
5/8
5/8
3/16
7/16
7/8
11/16
21/32
7/32
1/2
7/8
11/16
3/4
1/4