Sunbelt Tubing Spacer (STS)
Overview
Sunbelt Stud Welding has partnered with Deepwater Corrosion Services, Inc. in the manufacturing of a specially configured non-corrosive, UV resistant and rigid thermoplastic (I-Rod) for the Sunbelt Tubing Spacer (STS).
Specially designed notches allow separation between and air flow under the metal tubing, thus ensuring no moisture is collected eliminating possible corrosion or puncture damage caused by shock or vibration.
Sunbelt Tubing Spacer (STS) I-Rod - Technical Specifications.
These notches also ensure any tubing diameter securely stays in place without any metal surface touching the pneumatic tubing.
The Sunbelt Multi-Option Hanger (SMO) and Sunbelt Tubing Spacer (STS) can be combined for custom situations depending on your particular needs and application.
Please contact us for technical assistance.

Sunbelt Tubing Spacer (STS) I-Rod
---
Sunbelt Tubing Spacer (STS) Applications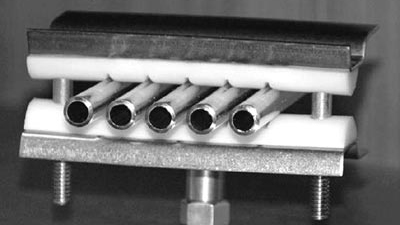 Sunbelt Multi-Option Hanger (SMO-004)
with Tubing Support (STS-004)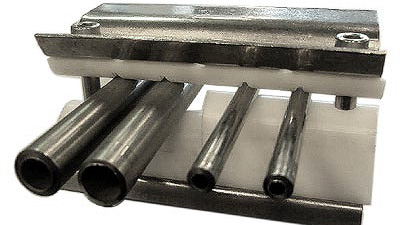 Sunbelt Tubing Spacer (STS-004) MOD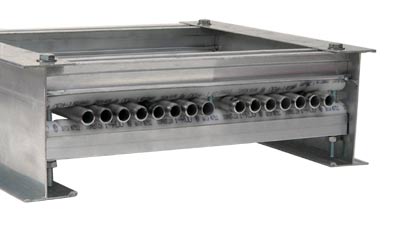 Sunbelt Tubing Spacer (STS-012) with 12" Aluminum Ladder Tray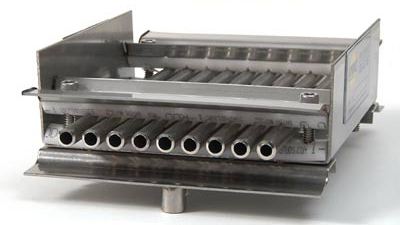 Sunbelt Multi-Option Hanger (SMO-006) / (SMO-TS-006) and Sunbelt Tubing Spacer (STS-006)
---
I-Rod Tubing Spacer Material Specifications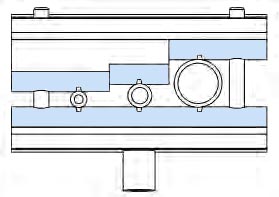 I-Rod™ Tubing Spacer shown in blue
I-ROD™ STANDARD
Property Value
ASTM Test
Metric
Imperial
Density, 73°F (23° C)
D792
1.41 g/cm
0.0509lb/in3
Tensile Strength, 73°F (23° C)
D638
64.8 MPa
9,400 psi
Tensile Modulus of Elasticity, 73° F (23° C)
D638
2.62 GPa
380 ksi
Elongation (at break), 73°F (23°C)
D638
30-60%
30-60%
Flexural Modules of Elasticity, 73°F (23°C)
D790
2.76 GPa
400 ksi
Flexural Strength, 73°F (23°C)
D790
82.7 MPa
13 ksi
Compressive Strength, 10% def, 73°F (23°C)
D695
103 MPa
15 ksi
Coefficient of Friction (dry vs. steel)
N/A QTM 55007
.25
0.25
IZOD Impact (notched), 73°F (23°C)
D256
.534 J/cm
1 ft-lb/in notch
Hardness, Rockwell, 73°F (23°C) M/R
D785
88/120
88/120
Maximum Service Temperature
(Long Term)
83°C
181°F
Deformation Under Load
D621
1.0%
1.0%
Melting Point
D3418
168°C
329°F
Coefficient of Linear Expansion
E831
97.2 um/m/°C
54uin/in/°F
Heat Deflection Temperature, 265 psi
D648
220°F
220°F
Flammability Rating
VL94
HB
HB
Dielectric Strength, Short Term
D149
420 V/mil
420 V/mil