CD Table Top Stud Welder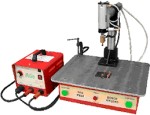 SPECIFICATIONS
TABLE SIZE
22" W x 18" Deep x 24" H (Max. Ext.)
WEIGHT
115 LBS.
CONSTRUCTION
TABLE TOP
Cast Aluminum
BASE
16 Ga. Steel Painted
FRONT PANEL CONTROLS
Two Palm Type Weld Buttons. Adjustable Pneumatic Controls For: Weld Pressure
ADDITIONAL CONTROLS
Time Delay before weld (no delay in gap mode)
WELDING MATERIAL
Mild Steel, Stainless, Aluminum, Copper, Brass
WELDING DIAMETERS
Dependent on Power supply/Controller used for welding
WELD MODE
Contact/Gap
POLARITY
Straight or Reverse
REQUIREMENTS
120 Volt AC 50/60 Hz, 10 Amp
AIR REQUIREMENTS
80 PSI, Filtered and dry air
NOTE: Full flanged studs are recommended for use with the Table Top Welder. The unit uses "B", (.375 diameter) Collets and Stops.