Capacitor Discharge (CD) Stud Welder - CD 212P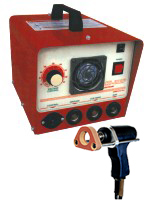 DESCRIPTION
The CD-212 P is a state-of-the-art solid state capacitor discharge stud/pin welder. Its lightweight design increases portability but with the power to weld 1/4" diameter flanged studs.
The extremely short weld time of capacitor discharge process allows studs to be welded to material as thin as .015 without burn-through.
The unit is capable of welding mild steel, stainless and aluminum studs as well as cuphead pins.
FEATURES
Designed and built in U.S.A.
Light weight
Safety fault shut down
Recessed Control Panel
Circuit Breaker Protection
SPECIFICATIONS
DIMENSIONS
8-1/2" H x 9" W x 11-3/4" D
STUD RANGE
14 GA. - 1/4"
WEIGHT
26 LBS.
CAPACITANCE
66,000 MFD
CHARGE RANGE
45-195 VDC
MODE
Contact Gap (optional)
WELD RATE
12 Studs/Min.
INPUT POWER
110 VAC, 60 Hz, 20 Amps
PARTS LIST
DESCRIPTION
PART NUMBER
SYSTEM COMPLETE
100-0117
POWER UNIT ONLY
200-0025
GUNS ONLY
300-0100
GROUND CABLE
125-0100