Methods of Supporting Cables with Inverted "T" Type Hangers and Trapeze Type Hangers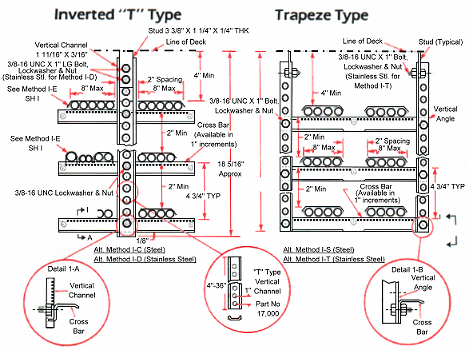 All hanger components are available in high weldable grade steel, stainless steel and aluminum, with finish to customer's specification.
All hangers can be supplied pre-assembled to the customer's exact loading and stacking requirements or unassembled.
All hanger components can be assembled in one (1) to five (5) tier configurations ("T" or "Trapeze") utilizing standard 3/8-16 hardware (hex bolt, nut & lockwasher), allowing increments of adjustment between the cross-tiers on one (1") inch over the full length of the channel or angle leg support.
The cross-tier is completely interchangeable and can be used for either the "T" or "Trapeze" style assembly.