Stud Welding Installation Services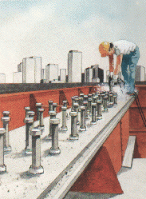 In the field, at our shop or yours, when you need weld studs professionally installed, why not turn to the experts? Sunbelt Stud Welding knows what it takes to get the job done - fast.
Our people have more than 35 years of stud welding experience, on all types of jobs. They know what to look for in a good weld and how to produce a perfect weld on every stud.
We will work to your schedule, when you want and will do the job right, and on time. In other words, we do whatever it takes to get the job done to your satisfaction.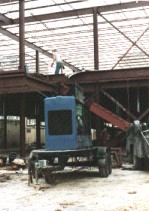 We are experienced in every kind of shop applied job and stud welding job - (composite deck systems, bridge rehabilitation, shoring applications and anti-skid studs on grating bridges). We've done it all - and done it well and we have earned a reputation for quality work and on-time completion.
Also, when it comes to equipment, we don't compromise. At every stage, we use the latest technology. For our in-house stud welding, we can use production equipment or fixed table equipment. At the jobsite, two diesel generators and a variety of motor generators give us full, dependable power, no matter how isolated the site. Advanced, long stroke stud guns ensure consistently perfect welds. All of our control units are solid-state for reliability and are inter-locked for efficiency, allowing us to operate two guns from a single power source.
Our technicians are familiar with all types of stud welding equipment. If equipment breaks down, they can repair or replace it, on-the-spot, thanks to their complete range of back-up parts and equipment. There are no delays or interruptions with Sunbelt Stud Welding on the job, we would be glad to help with your project, 1-800-462-9353.