Capacitor Discharge (CD) Stud Welder - CD 880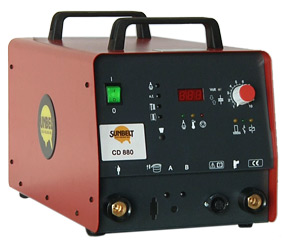 DESCRIPTION
The CD 880 is a lightweight capacitor discharge welder capable of welding studs with full base diameters as large as 3/8". The fully regulated power supply operates on 110V or 220V, producing a smooth and stable CD weld. The continuously adjustable charging voltage allows quick welding sequences. An electronically clocked inverter charging board protects capacitors from losing charge, making charge times short and efficient.
The CD 880 comes with one charging board, but an additional charging board can be installed for optimized charging time. Charging voltage does not vary with fluctuation in the voltage of the power supply.
Optional automatic module for automatic stud feeding systems can really simplify difficult CD stud welding jobs. Hand held auto feed CD systems are also available for your convenience.
Portable, reliable and powerful - the CD 880 CD stud welding system is a high performance capacitor discharge welder that can be taken directly to the job site.

CD 880 Stud Welder Manual - Download
FEATURES
Continuously adjustable charging voltage
LED diagnostics
Digital display of weld time
Short charge time
Protective metal casing
Portable
Reliable
Integrated safety switch for optimal safety
Powder coated so that labels do not wear off
Welding materials: steel (unalloyed and alloyed), aluminum, weldable special alloys, brass
SPECIFICATIONS
DIMENSIONS
11"W x 10"H x 18.5"L
WEIGHT
42 lbs.
CAPACITANCE CHARGE
88,000 mfd
CHARGING VOLTAGE
60-200 V (adjustable)
WELDING TIME
1 - 3 ms
STUD RANGE
14 GA - 3/8"
WELD RANGE
<40 studs per minute
INPUT POWER
230/115 V, 50/60 Hz (±10%)
PARTS LIST
DESCRIPTION
PART NUMBER
SYSTEM COMPLETE
B-S2007
POWER UNIT ONLY
B-90-30-3120
GUNS ONLY (PKM-1B)
B-90-10-2115
GROUND CABLE
B-90-50-2011