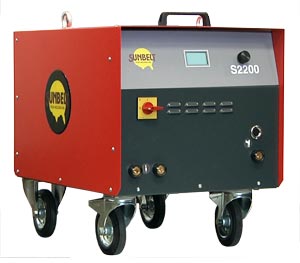 DESCRIPTION
Sunbelt Arc Stud Welding System for welding up to 7/8" diameter studs.
---
Suitable Stud Welding Guns
GD-22
PRO-SPLIT (an external adaptor box) is available as an accessory for the operation of up to 4 stud welding guns with different adjustment values for welding current and welding time. It automatically detects which gun is used.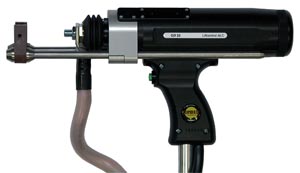 FEATURES
Microprocessor controlled for arc and short cycle welding.
Continuous weld current and time adjustment ensures optimum results & repeatability.
All functions and parameters shown on big digital display.
Pre-installed weld programs makes welding values per task easily accessible. User specific programs can be stored.
Last 10 weld values stored for easy access. Optional memory can store up to 24,500 previous welds.
USB-Interface allows data load to a P.C.
Shielding gas option for special welds (aluminum, etc.).
Can be supplied with multi-gun (2 to 4) for different or same weld diameter.
TECHNICAL DATA
WELDING RANGE
14 Gauge – 7/8" (2mm to 22mm)
WELDING MATERIAL
Steel, Stainless Steel
WELDING METHOD
Drawn arc (ceramic ferrule), short cycle, optional: drawn arc (gas)
WELDING CURRENT
200-2100 A, continuously adjustable
WELDING TIME
10-3000 MS, continuously adjustable
POWER SOURCE
Transformer/Rectifier
MAINS PLUG
CEE 32 A
MAINS SUPPLY
230/400/415/460V 63A, 50/60Hz Dual Transformer
MAIN FUSE EXTERNAL
63 AT
PROTECTION
IP 23
DIMENSIONS W x H x L
21" x 27" x 31"
WEIGHT
540 Pounds
ITEM NUMBER
B-90-30-4050